I feel very fortunate to be blogging about yet another one of my dear friends!
Lisa is my very favorite person on my softball team (no offense other Toxic Wasters!)--she has a contagious laugh, a positive outlook on life and can out-run everyone I know other than my husband (who I swear is part cheetah)--but she gives him a run for his money! And once upon a time, she encouraged me to visit a rock climbing gym with her. I did, I had fun, I got lots of bruises and blisters and bought my very own harness. It was awesome!
Just telling y'all this make me want to go to the rock climbing gym now...
so, anyway, while there I also met Richard. He was very nice and quite funny and a very experienced rock climber--and after one of the evenings at the gym I informed Lisa that I was pretttty sure that Richard totally wanted to make out with her. And you know what? I was right.
They met climbing. Their first date was climbing too-Richard took Lisa on her first outdoor multi-pitch climb--meaning they went 600 feet up a mountain and Lisa's life literally rested in Richard's hands! And appropriately enough, Richard proposed to Lisa while they were climbing!
So for engagement pictures, I just knew that climbing had to be involved! What I didn't know is that it would mean walking to the top of a mountain!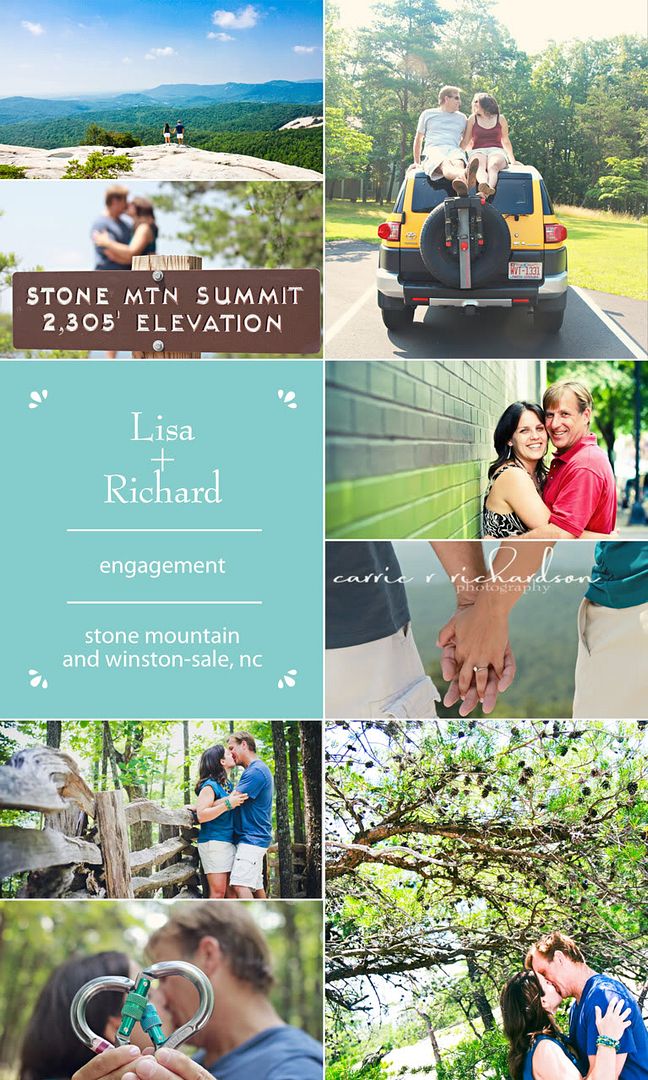 We traveled the path of their first date--first, they climbed Stone Mountain (but we hiked up it)! Next we went to the ice cream stop at the entrance to the park, then ate at
Foothills Brewing
and saw the sites in Winston-Salem. I loved that I could photograph them at such meaningful places!
They'll be getting married this October and my husband and I will be celebrating our 6 month-aversary at their wedding--and I couldn't think of a better way to mark the occasion!
These are only a handful of the pictures from their session. Wanna see the rest? Go to my wedding website and see their album under "
couples
!"